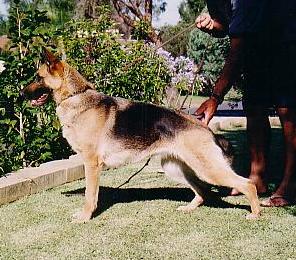 Sire: Quatorze Cognac AZ BSCL1

Dam: Siobahn Khamsin AZ

DOB: 16/07/1994

Hips: 6/3

Elbows: 0/0

Breed Survery Class Two

CDX

Bred By: T&Y Yun

Mira was born in 1994 and came to our home at the age of 5 months.

Mira was trialled in the obedience ring and achieved her CD title after 6 shows. She then went on to achieve her CDX title.

This took a little longer.

Mira was strong willed she loved to trial and lived to please.

She was John's best friend.

Mira had only 1 Litter - The start of our kennel- and produced 2 amazing sables Schneeberg Wildxander and

Schneeberg Willow Wind.

Mira Passed away In 2004.

Suddenly taken from us by a snake bite.

She is sadly missed but we know that she is having a great time now with her best friend PK.

Mira lives on in the spirit of her children, grandchildren and great grandchildren.

WHERE SCHNEEBERG ALL BEGAIN